Slag Vertical Mill
Pengfei HRM type Vertical Mill and PRM type Vertical Mill manufactured by Jiangsu Pengfei Group Co., Ltd is a new equipment developed based on digestion and absorption of foreign technology, and its grinding roller with pressure rolls fillet rolling the material (0-44mm) on the rotating disc for grinding and getting the material with relevant fineness which have the characteristics of high efficient grinding, large drying capacity, adjustable products' fineness, low noise, low power consumption, simple processing flow, little abrasion and low operation cost, etc. With the same processing, same rotating speed and diameter of abrasive disc, same material layer and pressure of grinding roller, grinding efficiency of PR type Vertical Mill could increase over 30%, average energy-saving is about 8.25, so the impaction and vibration of the whole machine will be obviously reduced. Meanwhile the technology of this equipment has reached the international advanced level, manufacturing quality has reached national leading level which has approved by ministerial-level and has been listed as national-level new products in 1995.
一、HRM type
Vertical Mill
is suitable for grinding of coal, coke, cement raw material, gypsum, barite, apetite, decomposed rock, kaolin and some other materials with medium hardness of metallurgy industry, building material industry, chemical industry, electric power industry, etc. And HRM series
Vertical Mill
could crush, dry, grind and separate, so the processing flow is very simple. Compared to
Tube mill
, vertical has a higher grinding efficiency, electric power consumption is 20-30% less, drying capacity is larger, water content of material could reach 15%, the granularity of loaded material is larger, fineness of products is easy to adjust, chemical components are stable and there is no steel ball impaction and no metallic direct contact, thus the noise is lower, abrasion is less. Others, there is separator inside of kiln, so there is no need to equip with separator, thus it takes up less building area, meanwhile the grinding roller could be turn over to outside of material which makes a easy maintenance.
二、Specification and main technical parameters of vertical coal mill.
Technical Spec. /Units

HRM1500S

HRM1700s

HRM2200S

HRM2800S

HRM4600S

Middle Diameter of Abrasive Disc

mm

Φ1500

Φ1700

Φ2200

Φ2800

Φ4600

Output

T/H

6-8

10-12

25-28

45-55

90-100

Max feeding size

MM

1-10

1-10

1-10

1-10

1-10

Max feeding moisture

%

<12

<12

<12

<12

<12

Water Content of Finish Product

%

<1

<1

<1

<1

<1

Power of Main Motor

KW

280

400

800

1600

3150
三、Working Principle of Vertical Mill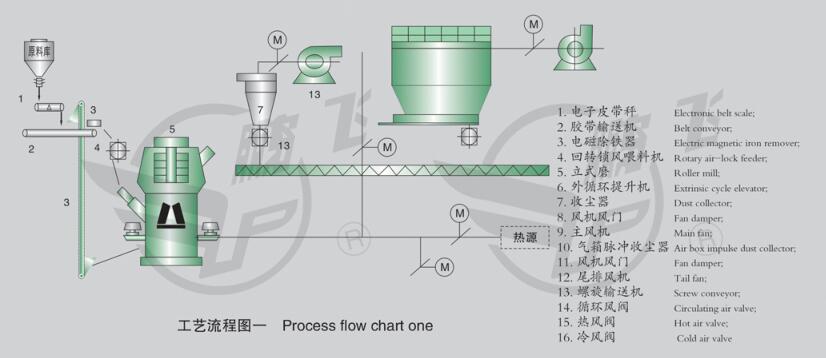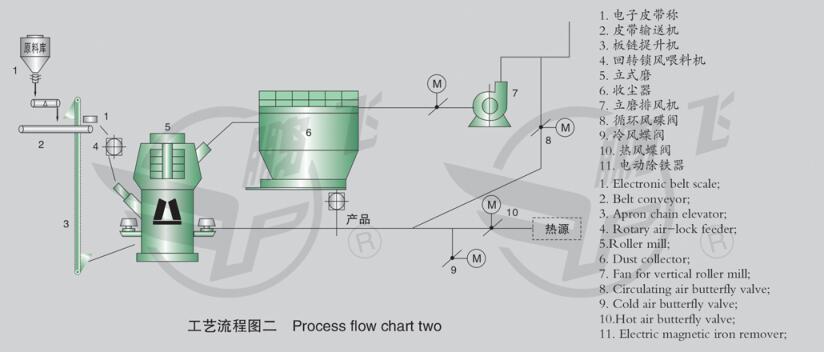 1、Main Structure and Function
Main structure of vertical mill composes of separator, grinding roller device, abrasive disc device, pressure device, reduction box, electro-motor, housing and so on.
Separator is the main part for deciding the finenss of the powder, which composes of variable speed transmission device, rotor, driven fan, housing, rough powder discharging conical hopper, air outlet and so on and it is a quick separating device with high efficiency, energy-saving.
Grinding roller is the main part for rolling and grinding the material. And it is installed to the arms of mill rolling tightly on the material of abrasive disc with the function of outer force and the grinding roller will rotate drove by abrasive disc which makes the material are completely rolled and grinded.
Abrasive disc is fixed to the discharging shaft of reduction box, upper part of abrasive disc is material beds and above it is the circle groove, while the material is rolled and grinded inside the circle groove.
Pressuring device is the part supplying the rolling pressure to roller and it composes of high-pressure oil station, tie rod of hydraulic cylinder, accumulator and so on, which could supply enough pressure for material grinding.
Reduction Box is the main par for transmission devices, the rotating speed of abrasive disc is the output shaft rotating speed of reduction box.
Motor drive the abrasive disc through reduction box, meanwhile hot air enter into vertical kiln through air inlet, material will fall into the central of abrasive disc through material outlet, with the function of centrifugal force, material will move from central of abrasive disc to the edge, when they go through the circle groove, they will be rolled and grinded with the function of grinding roller, the grinded material will keep moving to the edge of abrasive disc until they are taken away by air flow of wind central office, meanwhile the larger grain will fall down to the abrasive disc for continuous grinding. Then when the material inside the air flow go through the upper separator, rough material will fall down to the abrasive disc through conical hopper under the function of guide vane, meanwhile the fine power will go out of mill together with air flow, then they will be collected by collector of the system and the collected material is the finish product of vertical mill. Material will be dried during the contact with air from housing to reach the requested humidity. According to adjust the angle of guide vane for separator ( it couldn't be adjusted for little vertical mill) and the rotating speed of rotor of separator could get the requested fineness.
四、Advantages of vertical mill
Compared to ball mill, vertical mill has the following advantages:
1、High grinding efficiency. Vertical mill utilize grinding roller and material beds for rolling and grinding materials which is low power consumption and the power consumption of grinding system decreases 20-30% than that of ball mill system, meanwhile the energy-saving effect will be more obvious by the water content increasing of raw material.
2、Strong dry capacity. Vertical mill takes use air for material conveying which could control the temperature of entering air when roll and grinding the material with higher water content, this could gain the product with requested water content. And in vertical mill, the raw material with water content as high as 12-15% could be dried; even dry ball mill could only dry the material with water content of 3-4%.
3、The grain for mill is larger could be about 5% of the diameter of grinding roller, normally it could be 40-100mm, thus medium and large type vertical mill could leave secondary crushing out.
4、Products have stable chemical components and even grain composition. As the material will stay inside of vertical mill only for 2-3 minutes, while they will stay in bal mill for 15-20 minutes, the chemical component of finish product could be determined, revised quickly utilizing vertical mill for grinding, so the fluction of chemical component of products is little which is good for homogenizing. Besides of this, qualified products could be separated in time inside of vertical mill which avoid repeat rolling and grinding, thus the grain of products are even which is good for calcining.
5、Processing flow is simple, building area is smaller, taking up less space. Inside of vertical mill, there are separators, thus there is no need for equipping with separator and lifting and the air with dust from mill could go into collector to be collected as finish product, thus the processing is simple, layout is well-knit, building area is only 70% of that for ball mill system, building space is about 50-60% of that for ball mill.
6、Lower noise, less dust emission, clean operation environment. During the operation of vertical mill, grinding roller will not directly contact the abrasive disc, so there is no crashing between steel balls inside of ball mill and no impaction between steel ball and liner, thus the noise is lower which is about 20-25db lower than that of ball mill. Besides of this, vertical mill system is completely sealed, system will work in negative pressure, so the dust emission is less. Environment is clean which complies with requests of environment protection.
7、Lower metal abrasion, longer useful life time of liner and grinding roller, higher using rate. As there is no direct contact and impaction between metals inside of mill during operation, the abrasion of spare parts is less and the useful life time is longer, while metal abrasion for unit product is normally 5-10kg/tons. For cement material with medium hardness, the useful life time of grinding roller and liner could be about 8,000 hours.
===========================================================================================================================================
Jiangsu Pengfei Group Co., Ltd has the great comprehensive ability to provide the best quality services on turn-key basis with the complete equipment、 the installation and the debugging for the new type dry process rotary kiln cement factories under the daily capacity of 8000ton、5000ton and 2500ton and compound fertilizer plants under the annual capacities of the 300000ton. The "Pengfei" brand rotary kiln cement complete equipment have been sold exported to Russia、The Kingdom of Denmark、Germany、kazakhstan、Mongolia、Ukraine、Uruguay、uzbekistan、 Bangladesh、Pakistan、Laos、Peru、India and so on . MD export project are X18, X519, Son La, Lang Son, Da Ye, Chai Shai Cement factories in Vietnam, Tiger-Head, King Elephant Cement Plants in the union of MD and so on . All of these cement complete equipment production line have been widely praised by the international friends.

The key words are :

Jingsu Pengfei Group

、

cement machinery

、

cement equipment

、

cement machinery

equipment、

cement complete equipment

、

cement machinery

complete equipment、mining equipment、Tube mill、Ball mill、Cement mill、Coal mill、Slag mill、Raw mill、Mining mill、vertical mill、roller press 、grinding equipment. The leading products are the cement machinery equipment such as

the "Pengfei" brand rotary kiln

、

ball mill

、

Tube mill

、

Cement mill

、Coal mill、Slag mill、Raw mill、Mining mill、cooler、

vertical mill

、

roller press

、grinding equipment、conditioning tower、dust collector、

shaft mill

、rolling machine、drier、crusher and conveyor and so on.