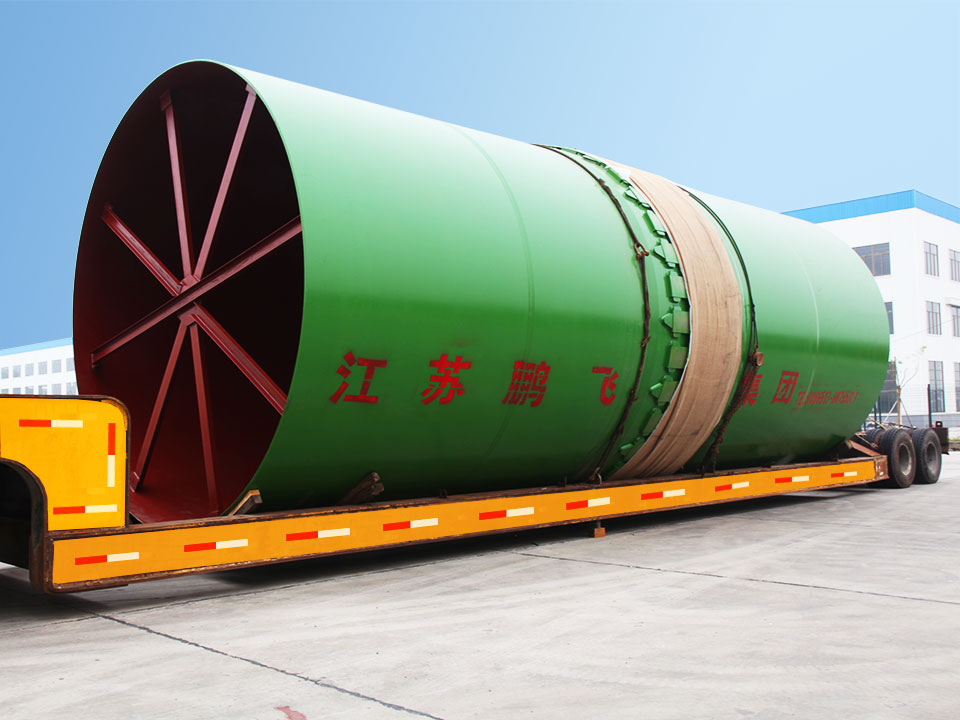 Garbage furnace/ Cement Kiln treating industrial waste & urban garbage disposal technology and equipment/ Rotary kiln project
Jiangsu Pengfei Group self-developed rotary kiln calcination system, gained 2 patents in 2003, while in 2006 Pengfei Cement rotary kiln was approved as "Famous brand of Chinese Building Material Machinery Industry", "Top brand of Jiangsu", gained "China Top Brand" in 2007, based on this, Jiangsu Pengfei group, Southeast University and Yancheng Engineering Colleague developed Cement Kiln treating industrial waste & city waste technology, among this the development & integrative subject of intelligent control system of large rotary kiln and low temperature cogeneration was bear by Southeast University, the subject of cyclone preheater high efficient low resistance separating, and utilizing pre-calciner to burn the city waste was bear by Yancheng Engineering Colleague. This project should be used for energy-saving calcination for cement industry with high power consumption, and utilized the power of waste burning to be auxiliary heat source meanwhile it utilized the city waste, so implemented the circulating economy. This technology is mainly used in 5000tpd dry process clinker production line and it is also suitable for the energy-saving improvement on medium and small cement calcination system. The innovating points of this projects are:
① Utilizes the double air outlet cyclone separator patent in cyclone preheater to reduce the resistance loss;
② Creatively move the city waste burning inside of rotary kiln technology into the pre-calciner to burn the city waste, the suitable type is enlarged, waste quantity could be adjusted, calcining quality of rotary kiln is stable and pollution could be eliminated, waste heat source could be utilized, thus it implements circulating economy;
③ Creatively utilizes heat-resisting steel bars connect the internal liner of kiln body with high temperature insulation function in series to form the entire insulation layer, improves the rigidity of kiln body, reduces to become deformed and avoids the brick falling for red kiln;
④ For the external area of burning zone, developed circular heat exchanger patent technology, recycled the radiant heat of kiln body, reduced the heat loss of burning zone and saved the power consumption of cooler in external zone of burning zone;
⑤ Creatively raised the idea that utilized computer intelligent control system to completely optimize and integrate the five sections of large rotary kiln calcination: cyclone preheater, pre-calciner, coal powder burner, rotary kiln and cooler.
Jiangsu Pengfei Group is national large-scale enterprise, key enterprises of China Building Material Machinery, leading enterprises of China Cement Machinery, Jiangsu Keeping Contract & Credit Enterprise, Jiangsu AAA level credit enterprise, producing and exporting base of 2500tpd, 5000tpd new type dry process rotary kiln cement equipments of the Ministry of Foreign Trade and Economic. We have the integrative capacity to supply complete set of services from designing, complete set of equipment, erection & commissioning.
Jiangsu Pengfei Group has powerful machinery processing capacity, max. turning round and hobbing process diameter is 12m, annealing furnace is 6.5m, indoor max. lifting capacity is 200t, max. open-air lifting capacity is 150t, have the rotary kiln cement machinery processing capacity with the diameter less than 6m.China Top Brand "Pengfei" cement rotary kiln sale amount is the second one in whole nation, enterprise gained the title"Chinese Cement Machinery Leading Enterprise, Top 20 of China Building Material Machinery. Our company is the integrative group on basis of building material machinery, electrical, environmental protection, chemical machinery, new type building material as future economic growth and has been approved by ISO9001 quality system. Its key product rotary kiln calcination system, high efficient ball mill, EP filter, micro-computer self-control, pre-water granulating equipment, separator, etc. has been approved by ministerial level, and gained national patent, national project of the spark plan, Jiangsu Province high-tech product title, accepted the favor from local and foreign customers.
Our company has the self-developing centre and special scientific employees and each year our company invested over 4% of total sales amount on the researching and developing. Set up developing studio, actively encourage developing employees to self-innovate, constantly focused on the advanced level, continuously promote technical improvement and innovation, insist on implement self-innovation based on digestion and absorption and improve the core competition of enterprise depending on scientific progress. After years development, our company has formed the rotary kiln series product with proprietary intellectual property rights, gained 35 patents, product quality and performances has reached international advanced level. Others, strengthen the cooperation with Tianjing Institute of China Sinoma, Nanjing Institute, Hefei Cement Research & Institute, Southeast University, Yancheng Engineering Colleague, Russia STROIPROEKT (construct) survey and design institute etc., the self-innovating capacity of our company has been obviously strengthened according to digestion and absorption of new technology, 5000tpd, 2500tpd complete set of cement equipment has been developed, have had the manufacturing capacity of these equipments and become the national leading manufacturing enterprises of large dry process cement rotary kiln.
===========================================================================================================================================
Jiangsu Pengfei Group Co., Ltd has the great comprehensive ability to provide the best quality services on turn-key basis with the complete equipment、 the installation and the debugging for the new type dry process
rotary kiln
cement factories under the daily capacity of 8000ton、5000ton and 2500ton and compound fertilizer plants under the annual capacities of the 300000ton. The "Pengfei" brand
rotary kiln
cement complete equipment have been sold exported to Russia、The Kingdom of Denmark、Germany、kazakhstan、Mongolia、Ukraine、Uruguay、uzbekistan、 Bangladesh、Pakistan、Laos、Peru、India and so on . MD export project are X18, X519, Son La, Lang Son, Da Ye, Chai Shai Cement factories in Vietnam, Tiger-Head, King Elephant
Cement Plants
in the union of MD and so on . All of these cement complete equipment production line have been widely praised by the international friends.
The key words are :
Jingsu Pengfei Group
、
cement machinery
、
cement equipment
、
cement machinery
equipment、
cement complete equipment
、
cement machinery
complete equipment、mining equipment、Tube mill、Ball mill、Cement mill、Coal mill、Slag mill、Raw mill、Mining mill、vertical mill、roller press 、grinding equipment. The leading products are the cement machinery equipment such as
the "Pengfei" brand
rotary kiln
、
ball mill
、
Tube mill
、
Cement mill
、Coal mill、Slag mill、Raw mill、Mining mill、cooler、
vertical mill
、
roller press
、grinding equipment、conditioning tower、dust collector、
shaft mill
、rolling machine、drier、crusher and conveyor and so on.